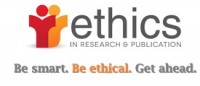 (figure copied from http://ethics.elsevier.com/)
"Understanding the ethical boundaries in scientific research and publishing is a key step in making sure your work gets off to the best start. From there, anything's possible"
Bioethics research:
Morality is a unique feature of the life of human beings. It is deeply influenced by several cultural factors, such as history, traditions, education, religious beliefs, etc.
The intellectual analysis of this human dimension in all of its complexity is the goal of the discipline called Ethics. Ethics does not create morality or moral behavior.
The goal of ethics is much more modest: to explore the nature of moral experience, its universality and its diversity.
Ethics and morality are generally taken as synonyms, because they originally had the same meaning: the study of the disposition, character, or attitude of a specific person, group of people or culture, and ways of promoting or perfecting it
Check it out the material lecture here
STEPHEN K. RITTER, C&EN WASHINGTON, 2001
Integrity and trust. these values are the hallmarks of the scientific discovery and publication process. Being objective is critical to this process, because communicating one's research to the scientific community is at the heart of what keeps science alive. It's also the principal way that scientists make their reputations, get jobs and promotions, and obtain sustained research support.